Interview with Anaïs Fernández, E-Seniors Association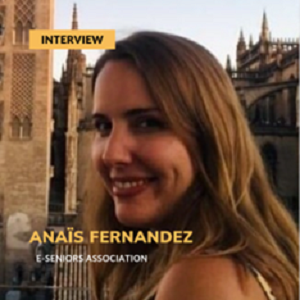 We would like to introduce you to our partner Anaïs Fernández from the E-Seniors Association with whom we are collaborating. We decided to have a short interview with Ms Fernández about her interest in the project and her role in it.
What organisation do you represent within the consortium and what is the role you develop in the project?
E-Seniors Association is a French non-profit organisation based in Paris, France. In the framework of the project TRUST aWARE, E-Seniors is an end-user representative which means that it represents the voice of the users and more specifically the interests of senior citizens in France. It also establishes the dialogue between the researchers, the technicians, and the target group. Therefore, E-Seniors is mainly involved in the piloting phase of the project by proposing the TRUST aWARE the solution to future users in order to measure its usability and adaptability as well as to understand seniors' attitudes and requirements related to this tool.
Why is it so important to train citizens and vulnerable collectivities in TRUST aWARE co-creation process to increase their confidence in software and improve their security online?
E-Seniors joined the project in order to act as facilitators between the technical part and the user part by creating a tool tailored to seniors' needs. Senior citizens represent a target group increasingly active online since the Internet enables them to communicate with their relatives, make online purchases, find various activities, or even carry out administrative procedures. However, seniors remain vulnerable when browsing online and risks may arise in terms of security and confidentiality. In consequence, there is a need to educate and train senior citizens on how to access and be part of online activities with a high level of protection. To achieve this goal, a co-creation process is conducted throughout the project by E-Seniors in France and its partners in Spain, Italy, and Romania with focus groups, iterative tests, and pilot sessions in France, in order to gather the opinions of the users and to readapt the system according to their needs.