Interview with Ángel Sola López, Fundación Cibervoluntarios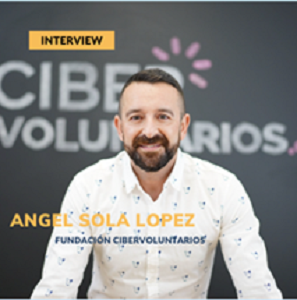 We would like to introduce you to our partner Ángel Sola López from Fundación Cibervoluntarios. As part of the project TRUST aWARE on which we are working together, we decided to conduct a brief interview with Mr Sola López to learn more about his enthusiasm for the initiative and his involvement in it.
What organisation do you represent within the consortium and what is the role you develop in the project?
Fundación Ciubervoluntarios is responsible for the coordination of the co-creation of tools to respond to threats to security and privacy. An initiative that Fundación Cibervoluntarios will develop until 2024 in collaboration with other European partners is to evaluate and demonstrate in two pilot phases the impacts of digital solutions created within the consortium in a real environment with citizens and stakeholders. With the participation of different groups of citizens — including populations in vulnerable situations and in four EU countries: Spain, Italy, France, and Romania.
Why is it so important to train citizens and vulnerable collectivities in TRUST aWARE co-creation process to increase their confidence in software and improve their security online?
To empower them, taking into account their needs. It is critical to involve vulnerable citizens so that they are better informed and trained and. Also, to better evaluate their general exposure to digital risks and their confidence while using computer programs. This is, for example, very useful with elderly people, so they can gain confidence and autonomy, giving them the tools to do it. TRUST aWARE co-creation work will provide citizen and organisations responses to improve the tools that ensure that citizens can assess and control the risks associated with their interaction with software and online services. The initiative wants to empower citizens.