Interview with Annaleda Mazzucato, Fondazione Mondo Digitale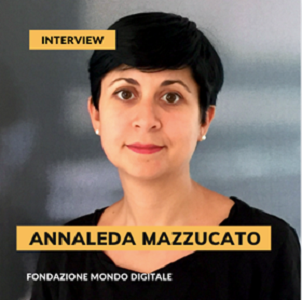 As part of the TRUST aWARE project, we would like to introduce you to our partner Annaleda Mazzucato from Fondazione Mondo Digitale. We chose to conduct a brief interview with Mrs Mazzucato to learn more about her involvement in the project and her interest in it.
What organisation do you represent within the consortium and what is the role you develop in the project?
Within the TRUST aWARE project, I represent Fondazione Mondo Digitale, a non-profit foundation based in Rome, Italy, promoting the use digital technologies as a social accelerator. FMD will contribute to engaging citizens of all ages in the process of co-creation of the TRUST aWARE solution, in order to raise awareness about privacy and security issues and empower citizens to consciously use the devices and responsibly surf the Internet, while at the same time bringing their needs to the centre of the development of security and privacy tools and standards.
Why is it so important to train citizens and vulnerable collectivities in TRUST aWARE co-creation process to increase their confidence in software and improve their security online?
Training is fundamental in order to generate awareness, not only to recognise the threats but also to be able to express specific needs with respect to standards and tools to protect users. TRUST aWARE is a unique project because it envisages the involvement of users in the software solution development process; users training is one of the strategies to initiate a dialogue between developers and users that can lead to the realisation of trustable solutions responding to the real and daily needs of citizens, according to their different knowledge and abilities to use technologies.