TRUST aWARE team wins the prestigious "Best Paper Award Antonio Cerrato"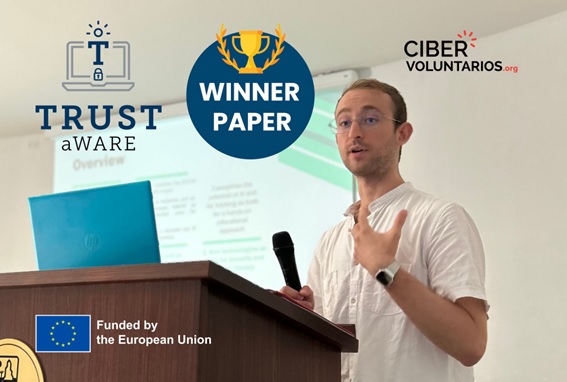 We have to share important news with you! Cibervoluntarios and TRUST aWARE have been awarded the prestigious "Best Paper Award Antonio Cerrato" for the article titled from a user-centric co-creation process and assessment approach to a cyber literacy path: the TRUST aWARE pilot experience", presented by Andrés del Álamo Cienfuegos from the Cibervoluntarios Foundation at the TeleXbe conference. Discover how this collaboration between Cibervoluntarios and TrustAware is making a difference and providing new opportunities in the field of education and internet protection and security.
Recognition for Online Security and Privacy
In an increasingly digitalised world, where technology offers us countless opportunities, we also face challenges such as online security and privacy. Fortunately, projects like TRUST aWARE are dedicated to empowering citizens and ensuring safety on the Internet. The goal is to provide tools that allow us to assess and control the risks associated with our activities on digital platforms such as social networks, mobile apps, online banking, etc., in order to protect our privacy and data security.
This TRUST aWARE initiative has been recognised with the "Best Paper Award Antonio Cerrato" at the TeleXbe conference, highlighting its practical applicability and innovation in education. In June this year, Andrés del Álamo Cienfuegos, from the Cibervoluntarios Foundation, presented the article "From a User-Centered Co-Creation Process Approach to the Evaluation of a Cyber Literacy Pathway: The Pilot Experience of TRUST aWARE," written in collaboration with Annaleda Mazzucato from Fondazione Mondo Digitale and María Pretel Aguilar, also from the Cibervoluntarios Foundation.
More about the paper: Empowering everyone for safe navigation
This paper focuses on a practical approach that utilises Artificial Intelligence and TRUST aWARE's Natural Language Processing (NLP) for Privacy Policy to offer digital literacy workshops both in schools and beyond. The aim is to educate people about online security and privacy (S&P) in a simple and understandable manner, using AI as a bridge to foster critical thinking and ethical debates.
Imagine our grandparents, who may not have been born into technology but now have the opportunity to learn and protect themselves in this digital world. This article details how practical tools, such as simulated social media accounts through AdAnalyst, enable them to learn about ad tracking and how to safeguard their online privacy. It is remarkable how technology can empower everyone, regardless of age or prior experience.
Furthermore, the article also explains how an education section is being built, featuring a collaborative platform that gathers diverse resources and materials related to online security and privacy. This section will be dynamic and grow over time, becoming a useful source of information for people to stay informed and safe on the internet.
TRUST aWARE aims to provide tools for citizens to assess and control risks associated with using digital platforms. The main purpose is to ensure the security and privacy of people's data on the internet.
The solutions and tools of TRUST aWARE are already being applied on different platforms, including social networks, websites, mobile apps, online banking, among others. This enables the protection of freedom, security, and privacy of individuals in the digital environment, while also improving the cybersecurity and the digital market position of the European Union.
TRUST aWARE forms a multidisciplinary consortium with expert organizations and entities in various disciplines and techniques relevant to the project: Tree Technology S.A; InfoCons Association; E-Seniors Association; Fondazione Mondo Digitale; WithSecure Corporation ; Trilateral Research Limited Ireland; IMDEA Networks Institute; Universidad Carlos III de Madrid; French National Center for Scientific Research; ABI Lab Centro di ricerca e innovazione per la banca – CERT Finanziario Italiano; y IoT Lab. It is inspiring to see how different groups of citizens, including vulnerable populations, in countries like Spain, Italy, France, and Romania, come together in this joint effort to build a safer and protected online environment for everyone.